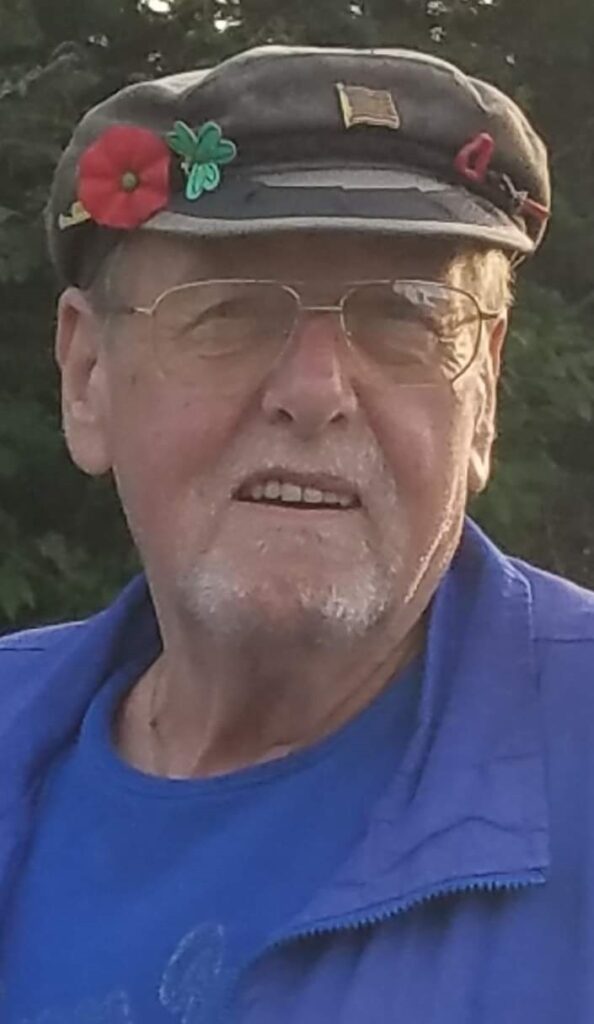 SONNY CUSHMAN
A fellow Mainiac who we didn't even meet until we got to Southwest Florida! I don't think Webster has come up with an adjective worthy of describing this man. Funny, Kind, A Partier, Lived Life to the Fullest, a Veteran, a Family Man, a Friend to all who knew him, etc etc etc. We lost a good one here. He has gone "Where the Good Doggies Go"!! Be pain free our friend!!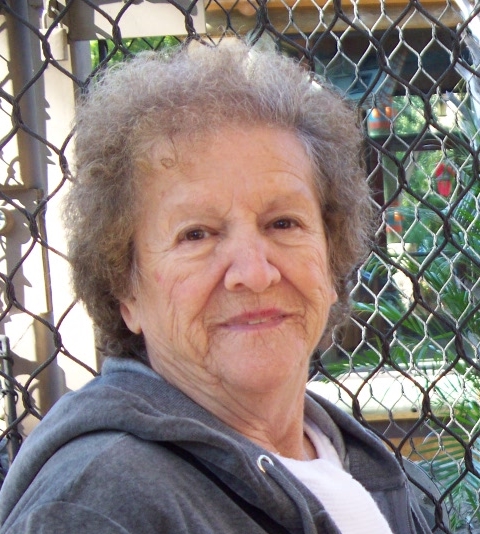 IRENE MOM PELLETIER
Coming soon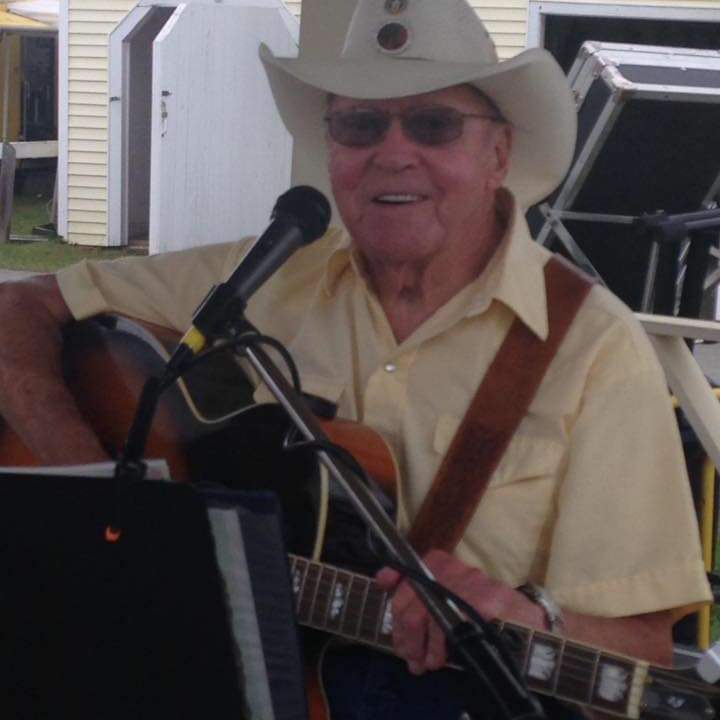 BING CROSBY
BING WAS ONE OF THE FIRST MAINE COUNTRY ARTISTS I REMEMBER GOING TO LISTEN TO WITH MY PARENTS. HE FRONTED AN AWESOME COUNTRY BAND. THEY WERE PLAYING ON THE TOP OF A BUILDING AND I THOUGHT THAT WAS JUST SO COOL. HE PERFORMED WITH HIS WIFE NANCY JUST ABOUT UP UNTIL HE PASSED AND THEY WERE BOTH GREAT SUPPORTERS AND AN INSPIRATION TO US.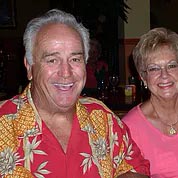 BILL & JEANNETTE SAUBERT
HERE IS A COUPLE WHO WERE SO SUPPORTIVE TO HOT DAMN OVER THE EARLIER YEARS OF OUR BEING IN NAPLES. YOU COULD ALWAYS COUNT ON THEM BEING AT PORKY'S LAST STAND AND ALSO CAME TO STAN'S ON SATURDAY AFTERNOONS. WE LOST BILL A FEW YEARS AGO AND JEANNETTE PASSED THIS SPRING. THERE WAS AN ARTICLE WRITTEN ABOUT US IN THE LOCAL PAPER WITH OUR PICTURE YEARS AGO AND THESE TWO LOVELY PEOPLE HAD IT MATTED AND FRAMED AND IT IS STILL ONE OF OUR MOST PRIZED POSSESSIONS.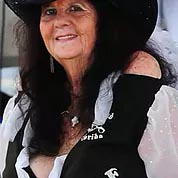 QUEEN MARY
QUEEN MARY HAD BEEN A HUGE PART OF THE STAN'S SUNDAY SHOW FOR MANY, MANY YEARS!! PEOPLE WOULD CALL STAN'S JUST TO FIND OUT IF QUEEN MARY WAS GOING TO BE THERE! IT WAS THAT IMPORTANT TO THEM!! SHE DIDN'T DRINK A DROP AND HAD NO INHIBITIONS!! LOVED MAKING PEOPLE LAUGH AND SMILE. SHE HAD AN INFECTIOUS LAUGH THAT NO ONE COULD OVERLOOK!! BUT EVEN MORE THAN ALL OF THAT, SHE WAS A REALLY NICE, COMPASSIONATE AND CARING PERSON. PROUD TO HAVE CALLED HER OUR FRIEND.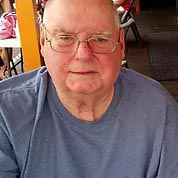 JIM DOUGAN
JIM AND HIS WIFE, PAT, WERE STAPLES ON SATURDAY AFTERNOONS AT STAN'S AND MANY OTHER GIGS AS WELL. JIM HAD POLIO AND IT WAS TOUGH FOR HIM TO GET THERE BUT HE DID IT; ALWAYS WEARING ONE OF OUR HOT DAMN T SHIRTS TOO! AFTER PACKING UP AT A GIG ONE NIGHT, WE WENT OUTSIDE TO SEE JIM SITTING ON THE TAR ATTTEMPTING TO CHANGE HIS FLAT TIRE. WE , OF COURSE, STAYED TO HELP BUT IF WE HADN'T BEEN THERE, HE WOULD HAVE GOTTEN IT DONE. HE WAS A BIG TEDDY BEAR!!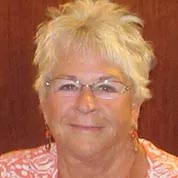 JANE BUCKLES
IF THERE EVER WAS A LADY WHO WAS SUCH A TROOPER IT WOULD BE JANE BUCKLES. DIAGNOSED WITH LUNG AND BRAIN CANCER, SHE FOUGHT IT HARDER THAN ANYONE WE KNOW. ALWAYS HAD A SMILE ON HER FACE AND JOKE COMING OUT OF HER MOUTH. JANE WAS SO PROUD WHEN HER STAMINA WOULD ALLOW HER TO MAKE IT TO THE END OF OUR GIG SO SHE COULD DANCE AND SING ALONG TO "TAKE YOUR DRUNK ASS HOME" !!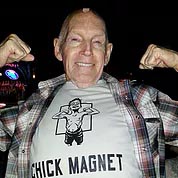 BUCK FLOWERS
IT WOULD TAKE A WHOLE BOOK TO TELL YOU ABOUT OUR BUDDY BUCK FLOWERS. HE WAS ONE OF THE FIRST PEOPLE WE MET, AT PORKY'S LAST STAND, IN NAPLES, FLORIDA. HE WAS A COMPLETE "FLORIDA CRACKER" AND HE PROBABLY THOUGHT "WHAT ARE THESE YANKEES DOING DOWN HERE PLAYING COUNTRY MUSIC"? WELL WE QUICKLY BECAME ONE OF HIS FAVORITES AND HE WAS AT MOST GIGS FOR SEVERAL YEARS, HARDLY MISSING A DANCE. I WOULD TAKE PICTURES OF HIM WITH ALL HIS DANCING PARTNERS AND MADE A PHOTO ALBUM OF THEM ALL AND PRESENTED IT TO HIM. WE PLAYED HIS ANNUAL PARTY MANY TIMES AND HE QUICKLY BECAME FRIENDS WITH ALL OF OUR HOT DAMN FANS!! SPECIAL GUY DOESN'T EVEN BEGIN TO DESCRIBE OUR FEELINGS FOR THIS MAN. DANCE ON BUCK, WITH NO PAIN ANYMORE!!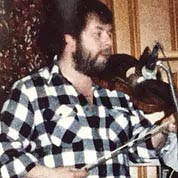 DAVID LEBLANC
I (DEBBIE) MET DAVE AT A TALENT SHOW IN MEXICO, MAINE WHEN I WAS 12 YRS OLD. HE WAS PERFORMING WITH HIS BROTHERS, DONNY AND DENNIS. WE FOUND OUT THAT OUR PARENTS KNEW EACH OTHER. SO IT BEGAN!! JUST ABOUT EVERY SATURDAY NIGHT, MY PARENTS WOULD BRING ME, MY GUITAR, AMP, AND MICROPHONE, TO THEIR HOUSE WHERE WE WOULD HAVE A HOOTENANNY!! WE WOULD PLAY MUSIC FROM ABOUT 5 PM TO MIDNIGHT, STRAIGHT, NO BREAKS!!! EVEN THOUGH I WAS TAKING GUITAR LESSONS, I LEARNED MUCH MORE FROM THESE GUYS, SO I QUIT THE LESSONS. DAVE WAS PLAYING THE KIND OF MUSIC I WANTED TO LEARN!! COUNTRY!! DAVE PASSED AT THE YOUNG AGE OF 39 AND THE WORLD LOST A VERY TALENTED, FUNNY, KIND PERSON. MY FRIEND! WHO KNOWS WHAT FURTHER ACCOMPLISHMENTS DAVE WOULD HAVE MADE IN THE MUSIC FIELD.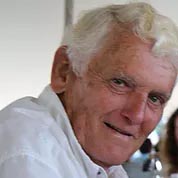 BRUCE ALLEN
WE HAVE KNOWN BRUCE AND HIS WIFE JOANNE FOR 25 PLUS YEARS. FELLOW MAINERS WE MET THROUGH OUR GIGS AT COOK'S LOBSTER POUND ON BAILEY ISLAND, THEIR HOME TOWN. OUR FRIENDSHIP CONTINUED WHEN WE MOVED TO NAPLES FLORIDA AS THEIR WINTER HOME IS ON MARCO ISLAND. BRUCE WAS ALWAYS SO KIND TO US AND VERY SUPPORTIVE. HE SHOWED UP AT MANY A STAN'S GIG IN GOODLAND AND WAS ALWAYS BRINGING FRIENDS AND FAMILY ALONG TO SEE US. THE WEDNESDAY NIGHTS THIS COMING WINTER AT STAN'S WILL NOT BE THE SAME WITHOUT THIS SPECIAL MAN.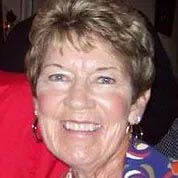 NANCY JEAN DONIELSON
LOST A FRIEND, A FLORIDA NEIGHBOR, AND HUGE HOT DAMN SUPPORTER ON MARCH 3, 2016 WHEN NANCY PASSED. HER AND HER HUSBAND MARK ATTENDED A RECORD NUMBER OF OUR GIGS OVER THE PAST SEVERAL YEARS SINCE WE HAVE KNOWN THEM. SHE WAS SINCERELY "A PINT OF PISS AND VINEGAR"!!!! THAT'S A COMPLIMENT AND AN ENDEARING PHRASE MY MOTHER USED OFTEN!!! SUCH A TINY, FRAIL WOMAN WITH A BIG HEART AND HUGE SMILE. DESPITE MANY MEDICAL CONDITIONS, SHE RALLIED ON , DANCING JUST ABOUT EVERY DANCE TO OUR MUSIC!! SHE WILL BE SO MISSED AT OUR GIGS WHERE SHE WAS SUCH A REGULAR!!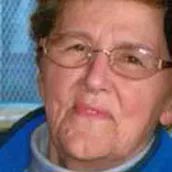 BEVERLY UPHAM
BEVERLY WAS A FELLOW "MAINER" FROM THE SOUTHERN COAST OF MAINE. SHE FREQUENTED OUR SHOWS AT STAN'S AND OTHER VENUES WITH HER HUSBAND RAY AND OTHER FAMILY MEMBERS QUITE OFTEN. A HAPPY SOUL TAKEN TOO SOON! LOVED COUNTRY MUSIC, LIFE, AND HER FAMILY. MISS SEEING HER ALWAYS SMILING FACE!!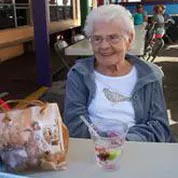 DOLORES LUCAS
DOLORES WAS MOM TO OUR DEAR FRIEND AUDREY NAKON. EVERY,AND I MEAN EVERY, SATURDAY AFTERNOON DOLORES AND AUDREY WOULD BE AT STAN'S FOR OUR SHOW. SHE WOULD ARRIVE AROUND 2 PM, HURRIEDLY MAKING HER WAY THROUGH THE CROWD WITH HER WALKER TO GET TO THE FRONT SEAT!!! LOVED HER GIN AND TONIC!! WE ALWAYS DEDICATED "I LIKE GIRLS THAT DRINK BEER" TO HER BUT AT THE END CHANGED THE WORD BEER TO "GIN"!! AND STILL DO THAT TO THIS DAY IN HONOR OF A DEAR , SWEET LADY!! THIS IS A PICTURE OF HER CELEBRATING HER BIRTHDAY WITH US AT STAN'S!!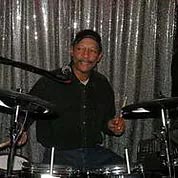 HAYDN ARNEL JONES
ARNEL PLAYED DRUMS FOR US OFF AND ON WHILE WE WERE RESIDING IN MAINE. YOU COULD NEVER FIND A NICER OR MORE KIND PERSON, A PERSON WHO COULD ALWAYS JUST GO WITH THE FLOW. HE FOUGHT THE FIGHT FOR 10 YEARS AND PASSED THIS SUMMER, 2014. ALWAYS TOUGH TO LOSE A FELLOW MUSICIAN, ESPECIALLY ONE AS SPECIAL AS ARNEL.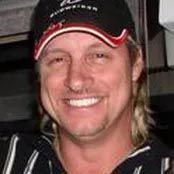 BILLY PIERSON
BILLY WAS A TALENTED AND VERY CHARISMATIC SINGER/MUSICIAN WHOM WE MET IN NAPLES FLORIDA. HE HAD CONNECTIONS IN NASHVILLE AND WENT THERE OFTEN TO PERFORM. ONE SUCH TIME, HE INVITED NORM, AND I, AND KERRI MOORE TO GO UP THERE WITH HIM TO BACK HIM UP FOR A COUPLE OF SHOWCASES HE WAS DOING. IT WAS QUITE AN EXPERIENCE. WE ALSO BACKED HIM UP AT A SHOW IN GOLDEN GATE FLORIDA. A VEHICLE ACCIDENT TOOK THE LIFE OF BILLY A FEW YEARS BACK. THE MUSIC WORLD LOST A SPECIAL PERFORMER IN BILLY PIERSON.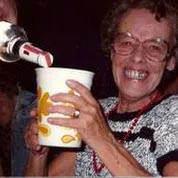 MOM IRENE PINGREE
THIS IS MY MOM, AND, OF COURSE, WITHOUT HER I WOULDN'T EVEN BE WRITING THIS MEMOIRE. SHE IS TOTALLY THE REASON WHY I HAVE MUSIC IN MY BLOOD AND HEART. SHE WAS ALWAYS A PART OF ANY SINGING OR DANCING SKIT THAT WAS PUT ON FOR BABY SHOWERS, WEDDING SHOWERS, OR PARTIES. SHE COULDN'T SIT STILL WHEN MUSIC CAME ON! SHE SAT ME DOWN IN THE MIDDLE OF THE KITCHEN WHEN I WAS ABOUT 12 YEARS OLD AND TOLD ME I COULD SING NOW THAT I HAD BEEN TAKING GUITAR LESSONS FOR 3 YEARS!! I CRIED SAYING I CAN'T I CAN'T. THANKS MOM FOR BEING RIGHT, AS ALWAYS!! I LOVE AND MISS YOU SO MUCH!!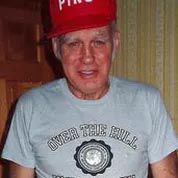 DAD SHERWOOD PING PINGREE
OF COURSE, I HAVE TO GIVE "SOME" CREDIT TO MY DAD! LOL MY MOM WAS A WONDERFUL HOMEMAKER AND MY DAD WORKED HIS BUTT OFF SUPPORTING HIS FAMILY OF A WIFE AND 3 CHILDREN. SOMEHOW, HE FOUND THE MONEY TO SEND ME FOR GUITAR LESSONS WHEN I WAS 9 YEARS OLD AND THAT CONTINUED FOR 4 YEARS. THE ONLY REQUEST HE HAD WAS THAT I AT LEAST GIVE IT A TRY AND PRACTICE HARD AT IT! I NOW CAN'T IMAGINE NOT PLAYING AN INSTRUMENT OR HAVING MUSIC IN MY LIFE. THANK YOU DAD WITH ALL MY HEART!!! HE WAS ALSO MY BIGGEST AND MOST QUIET SUPPORTER. HE WASN'T MUCH FOR SAYING THINGS, BUT YOU JUST KNOW WHAT HE WAS FEELING!!! LOVE YOU AND MISS YOU!!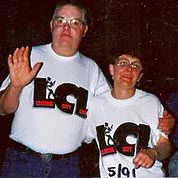 BASIL AND EUNICE MARBLE
WE MET THESE WONDERFUL FOLKS AT HARMONY HALL IN N. YARMOUTH MAINE MANY MANY MOONS AGO. THEY WERE THERE TO CELEBRATE THEIR 25TH ANNIVERSARY AND HAD NEVER STAYED IN A HOTEL BEFORE!! THAT IS BECAUSE THEY WERE TOTALLY DEVOTED TO THEIR FAMILY! THEY LOVED COUNTRY MUSIC AND EACH OTHER!! WE INSTANTLY BECAME GOOD FRIENDS AND PLAYED PARTIES, WEDDINGS AND SPECIAL EVENTS AT THEIR HOME AND FOR THEIR FAMILY. WE LOST EUNICE SEVERAL YEARS AGO AND GOT TO VISIT HER IN HE HOSPITAL TO SAY GOODBYE. EVEN ON THAT DAY SHE WAS WITH IT — WHEN NORM ASKED HER , DO YOU KNOW WHO I AM, SHE SAID, YES THAT'S "MY HUNK", HER NICKNAME FOR NORM. BASIL HAD THE BIGGEST HEART AND LOVED TO PARTY!! A BIG BIG TEDDY BEAR!! HE CAME TO MANY OF OUR CAMPGROUND GIGS. TWO PEOPLE WHO WILL ALWAYS BE IN OUR HEARTS RIGHT THERE!!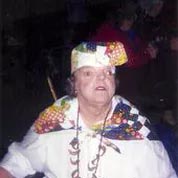 RUTH ARSENAULT
THIS LOVELY LADY WAS MY AUNT, MY MOM'S SISTER. RUTHIE, AS WE ALWAYS CALLED HER, WAS BORN WITH A MENTAL DISABILITY. THIS WAS A BIG PLUS IN MY LIFE AS I UNDERSTOOD QUITE EARLY IN LIFE WHAT A SPECIAL PERSON SHE WAS. NOT SPECIAL IN A BAD WAY, SPECIAL IN THE BEST WAY POSSIBLE!! HARD TO BELIEVE HOW MUCH SHE TAUGHT ME ABOUT LOVE, FAMILY, MUSIC AND TAKING WHAT LIFE HANDS YOU AND MAKING THE ABSOLUTE BEST OF IT. SHE LOVED TO SING AND DANCE AND BE ON STAGE. SHE GOT UP AND SANG WITH US MANY A TIME TO THE DELIGHT OF EVERY AUDIENCE. THROUGH RUTHIE, WE MET MANY OF HER FRIENDS AND FELLOW CO-WORKER AND FELL IN LOVE!! WE WOULD PLAY FOR THEM OFTEN AND THEY WOULD BE THE BEST AND MOST APPRECIATIVE CROWD EVER!! I'M SURE RUTHIE AND MY MOM ARE DANCING UP A STORM IN HEAVEN!! NO DOUBT!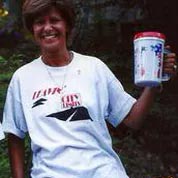 SANDY STRIKE
SANDY AND HER FAMILY AND EXTENDED FAMILY WERE SEASONAL CAMPERS AT LAKE PEMAQUID CAMPGROUND IN DAMARISCOTTA MAINE. WE MET THEM ABOUT 20 YEARS AGO WHEN WE FIRST STARTED PLAYING THERE. HER AND HER SISTER IN LAW MARGIE WOULD BE AT EVERY GIG THERE AND MOST OF THE TIME THE FIRST ONES THERE. SHE LOVED GEORGE STRAIT SO WE WOULD ALWAYS PLAY LOTS OF GEORGE SONGS FOR HER. TOWARD THE END OF HER ILLNESS, SHE WAS TOO SICK TO COME ONTO THE DECK WHERE WE PLAYED; INSTEAD SHE WOULD HAVE HER HUSBAND DRIVE THE CAR UP BY THE STAGE SO SHE COULD LAY IN THE BACK SEAT AND LISTEN TO THE MUSIC. IF THAT DOESN'T TOUCH SOMEONE'S HEART, THEY DON'T HAVE ONE!! IT CERTAINLY TOUCHED OURS AND WHEN SHE PASSED, HER DAUGHTER MADE SURE WE KNEW THAT SHE WAS WEARING OUR BAND T-SHIRT AT THE TIME. WE STILL SEE HER FAMILY AT PEMAQUID WHEN WE PLAY AND SHE WOULD BE SO PROUD OF THEM ALL!!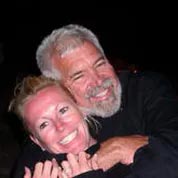 TIM DURBIN
TIM DURBIN WAS A BOATING NEIGHBOR OF CHARLIE BEAR BENNETT'S. HE AND HIS WIFE MEL WOULD COME TO OUR STAN'S GIGS WHEN THEY WERE IN TOWN FROM PHILADELPHIA. ALWAYS SMILING, ALWAYS UP, JUST TOTALLY ENJOYING LIFE! A GREAT MEMORY WE HAVE IS OF THE TIME A BUNCH OF US TOOK BEAR'S SIDE BY SIDES AND WENT ON A RIDE ALL OVER BEAR'S PROPERTY ON MANITOULIN ISLAND, STOPPING FOR AN OCCASIONAL BEER FROM THE COOLERS WE HAD BROUGHT! AT 57, TIM PASSED JUST TWO MONTHS AFTER BEAR DID AND IT WAS SUCH A SAD AND TOTALLY UNEXPECTED LOSS.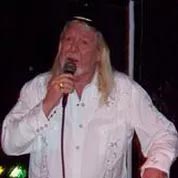 MEL McDANIEL
MOST PEOPLE WOULD KNOW WHO MEL McDANIEL IS. HE HAD MANY A COUNTRY HIT ON THE CHARTS IN THE 1980's SUCH AS "BABY'S GOT HER BLUE JEANS ON", "LOUISIANNA SATURDAY NIGHT", "STAND ON IT" ETC ETC. WE MET AND BECAME FRIENDS WITH MEL AT TWO RIVERS CAMPGROUND IN NASHVILLE TENNESSEE WHERE HE RESIDED WHEN HE WAS IN TOWN. HE EVEN CAME TO ONE OF OUR SOCK HOPS GIGS THERE WITH HIS WHITE SOCKS AND ROLLED UP JEANS TO FIT THE ERA!! MEL AND PEGGY ARE THE REASON WE GOT TO GO BACK STAGE AT THE OPRY SO OFTEN WHICH WAS SUCH A HIGHLIGHT FOR ME; FOR NORM — WELL HE TOOK THE PICTURES FOR ME!! LOL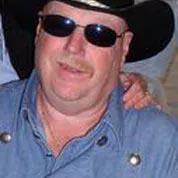 GARY WINTER
MET GARY WINTER AND HIS WIFE JEANNIE AT THE EVERGLADES SEAFOOD FESTIVAL IN FEBRUARY 2003. THEY INFORMED US OF THE CHEAPEST TENT TO PURCHASE OUR BEER THAT DAY!! AND FROM THAT MOMENT ON, THERE WAS A BOND OF FRIENDSHIP NEVER TO WAVER!! GARY HAD THE BIGGEST HEART AND NEVER KNEW THE WORD "NO" WHEN IT CAME TO HELPING ANYONE AT ANY TIME! OUR MOTTO FOR GARY WINTER — "A FRIEND LIKE NO OTHER"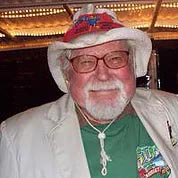 STAN GOBER
STAN GAVE US A CHANCE TO PLAY AT HIS ESTABLISHMENT, STAN'S IDLE HOUR IN GOODLAND, WAY BACK IN THE WINTER OF 2003 AND WE HAVE PLAYED THERE EVER SINCE! THERE IS SO MUCH TO SAY ABOUT THIS WONDERFUL MAN THAT I WOULD NEED TO WRITE A BOOK — AND HE DID THAT!! A WONDERFUL BOOK IT IS TOO ABOUT HIS LIFE. HE WAS A HARD WORKING, PEOPLE LOVING, GOD FEARING, STAUNCH DEMOCRAT, FULL OF LIFE MAN!! IF YOU HAD A CHANCE TO MEET STAN GOBER, YOU WERE A BLESSED PERSON! HE TRULY WAS INSTRUMENTAL IN LAUNCHING OUR CAREER IN SOUTHWEST FLORIDA!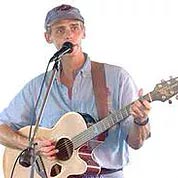 KEVIN THOMAS
NORM MET KEVIN THOMAS AT A BAR ON MARCO ISLAND ONE NIGHT WAY BACK IN 2003 WHILE NORM WAS LOOKING FOR A PLACE FOR US TO PLAY. AFTER A SHORT CONVERSATION, KEVIN REALIZED NORM WAS A MUSICIAN AND TOLD HIM TO STOP BY STAN'S THAT FRIDAY AND SET IN WITH HIM. WHEN NORM SAID, WELL MY WIFE PLAYS BASS, KEVIN SAID BRING HER ALONG!! AND THAT STARTED OUR FRIDAY NIGHTS WITH KEVIN AT STAN'S IDLE HOUR. KEVIN HAD SOME MEDICAL ISSUES WHICH EVENTUALLY LED TO HIM HAVING A STROKE AND HE ENDED UP AT A VA HOME IN NORTHERN FLORIDA TIL HIS PASSING. WE ALWAYS CREDIT KEVIN, AS WELL AS STAN GOBER, WITH LAUNCHING OUR CAREER IN SOUTHWEST FLORIDA! ONE MUST GIVE CREDIT WHERE CREDIT IS DUE!!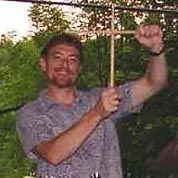 CRAIG RECORD
CRAIG PLAYED FOR MANY YEARS IN OUR BAND IN MAINE, LEAVIN' CITY LIMITS. A SUPER TALENTED MUSICIAN AND SINGER!! HE WAS TRULY LIKE A BROTHER TO US. WE WENT THROUGH LOTS OF TRIALS AND TRIBULATIONS WITH CRAIG BUT WE ALWAYS OVERCAME THEM WHICH WE THINK IS WHY WE BECAME SO VERY CLOSE! A REALLY GOOD PERSON WHOM WE LOST WAY WAY TOO EARLY. WE ARE SURE HE IS PERFORMING SOMEWHERE "ON THE OTHER SIDE"!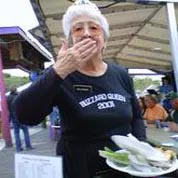 MAUREEN THOMPSON
THIS PICTURE JUST SAYS IT ALL ABOUT MAUREEN!! JUST THE SWEETEST LADY!! ALWAYS THE SMILING WAITRESS, EVEN WHEN SHE WAS "IN THE WEEDS" (A WAITRESS TERM) LOL. SHE WAITRESSED AT STAN'S FOR MANY MANY YEARS AND BECAME A FRIEND TO EVERYONE SHE WAITED ON. SHE WAS INFECTIOUS AND SO LOVED BY ALL.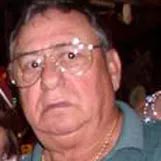 ERNEST McCORMICK
THE VERY FIRST BAR NORM AND I WENT INTO THE DAY AFTER WE FIRST ARRIVED IN NAPLES FLORIDA, WE MET THIS MAN. ERNEST LOVED TO TEASE US AND CALL US "YANKEES" AND WHAT DO THEY KNOW ABOUT COUNTRY MUSIC!! HOWEVER, AFTER GETTING UP WITH THE BAND PLAYING THERE THAT NIGHT, HE WALKED OVER AND SAID TO US "YOU WILL BE PLAYING HERE AT PORKY'S". AND WE DID, FOR MANY MANY YEARS. ERNEST WAS HARD AND BRASS ON THE OUTSIDE AND SOFT LIKE A TEDDY BEAR ON THE INSIDE. HE TOOK US ON OUR FIRST REAL AIRBOAT RIDE AND I MEAN WHAT A RIDE IT WAS. HE WAS BOUND AND DETERMINED TO FRIGHTEN THE YANKEES!! AND IF YOU HAVEN'T HEARD NORM TELL THE STORY ABOUT HOW ERNEST TAUGHT HIM HOW TO EAT FROG LEGS, JUST ASK NORM TO TELL YOU! IT'S WORTH HEARING.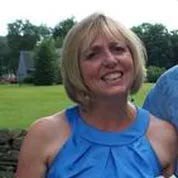 MARGIE COLLINS
MARGIE AND HER HUSBAND DENNIS FRQUENTLY ATTENDED OUR HOT DAMN PERFORMANCES, ESPECIALLY AT STAN'S. SHE WAS ALWAYS DRESSED PERFECTLY FOR THE SOCK HOPS WE WOULD DO THERE. THEY LOVED DANCING! THERE WAS THAT CONSTANT, BEAUTIFUL SMILE ON HER FACE. WE EVEN PLAYED THEIR DAUGHTER'S WEDDING IN MASSACHUSETTS. MARGIE WAS LOST TO CANCER WAY TOO SOON. A LOVELY LOVELY PERSON!
PATTY KNAPP
WE GO WAY WAY BACK WITH PATTY ESPECIALLY SINCE SHE IS FROM HERE IN ROXBURY MAINE. PLAYED MANY A PARTY FOR HER OR HER FAMILY. AND SHE WAS ALWAYS ON THE DANCE FLOOR WITH HER HUSBAND RICHARD AT OUR GIGS. WE DID MANY A CAMPING TRIP WITH THESE FOLKS AND THEY CAME TO VISIT US IN FLORIDA. SHE WAS A FABULOUS CAKE DECORATOR.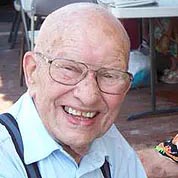 BOYD
BOYD, A STAPLE AT STAN'S FROM THE FIRST DAY WE PLAYED THERE. ALWAYS SAT AT "THE CAPAINS" TABLE. SUCH A WONDERFUL MAN WITH THAT CONSANT SMILE YOU SEE HERE IN HIS PICTURE. IT WAS A SAD DAY WHEN HE HAD TO MOVE NORTH WITH HIS FAMILY WHICH WAS FOR HIS BEST! NEVER MET HIS WIFE WHO HE TALKED FONDLY ABOUT OFTEN. BOYD AND HIS WIFE WERE SO INVOLVED WITH STAN'S FOR SUCH A LONG TIME THAT HER ASHES ARE BURIED UNDER THE MAIN STAGE AT STAN'S.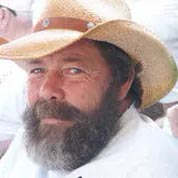 CHARLIE "BEAR" BENNETT
A GIANT, THAT IS OUR DESCRIPTION FOR THIS MAN. OUR GOOD FRIEND CHARLIE BEAR BENNETT. HE WAS A GIANT GIVER, A GIANT PARTY PERSON, HAD A GIANT HEART AND WAS A GIANT FRIEND!!! HE WAS ONE UNIQUE PERSON AND WE ARE SO LUCKY AND HAPPY WE GOT TO CALL HIM FRIEND FOR 10 YEARS!!
Copyright Hot Damn Duo. All Rights Reserved.
Site Designed by Jared Heil.